✨Welcome to Austell Cowork
✨Welcome to Austell Cowork
This page covers a few important topics on our 24/7 location. Want the TL:DR? Watch this short video.
If you ever have any questions, please reach out to our team at info@austellcowork.com or at
(470) 206-9239 via text message only.
🛜 WIFI Access
Our network name is Austell Cowork and the password is cowork2760.
‼️ Most Important Info & Rules
The facility is members-only, and doors are to remain locked at all times for your safety. Don't let people in who don't have a key (details below).
Be respectful – Book your rooms. No drop-ins. Be respectful with your volume, of your neighbors and of the space: use our dedicated work zones as intended. No speakerphone calls. Food only in the break area.
Don't "mess around" with the furniture, climate control, music, projectors or anything that's not your property.
Ultimately we are cultivating a space where you can be productive.
We are located at 2760 Broad Street, Austell, Georgia 30106. Our facility overlooks Historic Broad Street in Downtown Austell. Due to an active train line, there are sometimes delays at the intersection of Powder Springs Road and Veteran's Memorial Highway. If you get hung up by the train, an alternative route is available via Joe Jerkins Blvd aka The Bridge. Parking is currently available along Broad Street and at the Collar Park Community Center at the end of the street. You may also commute via rideshare, on foot or by bicycle.
Our campus includes lockers and a showering facility for active members.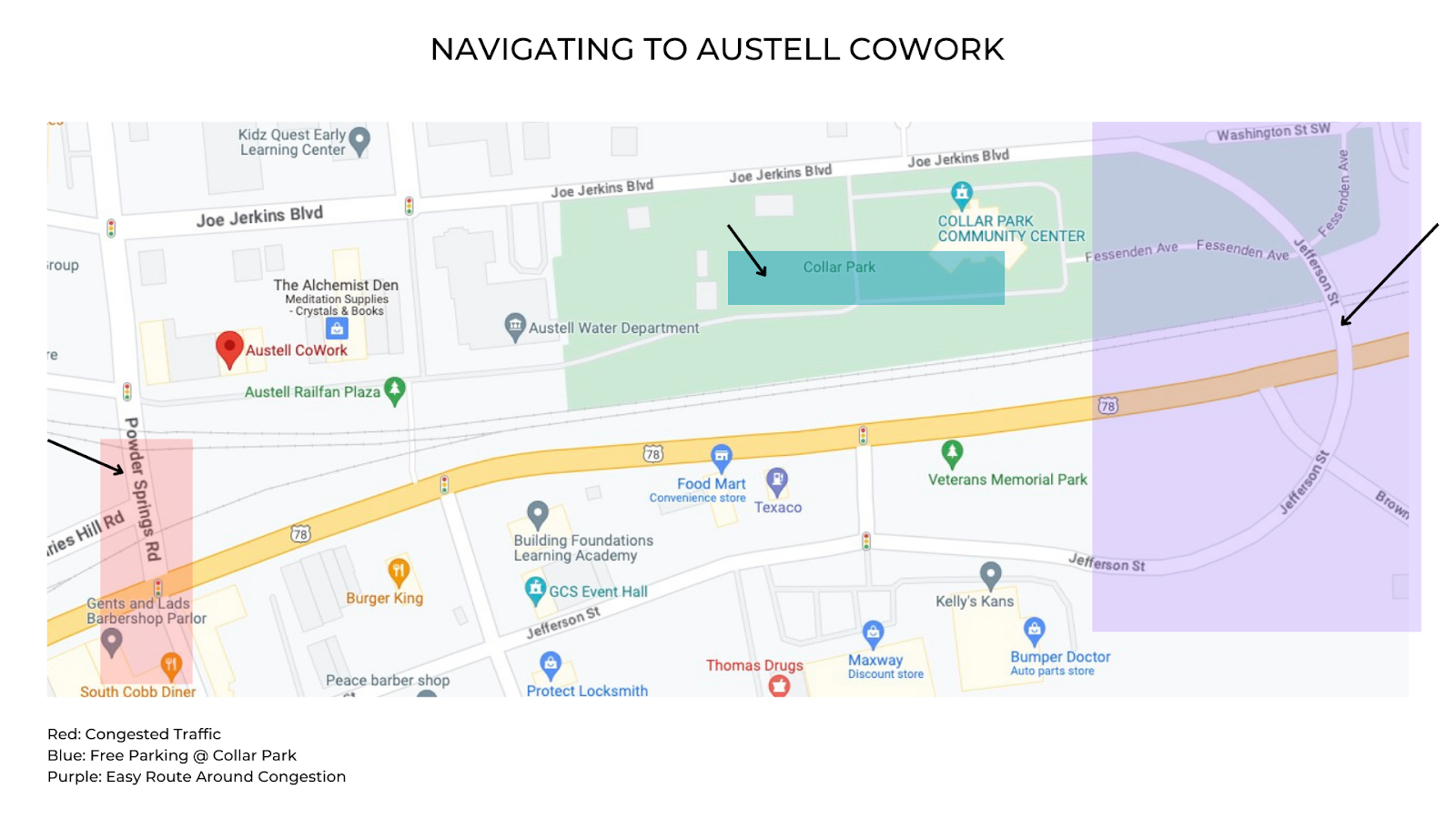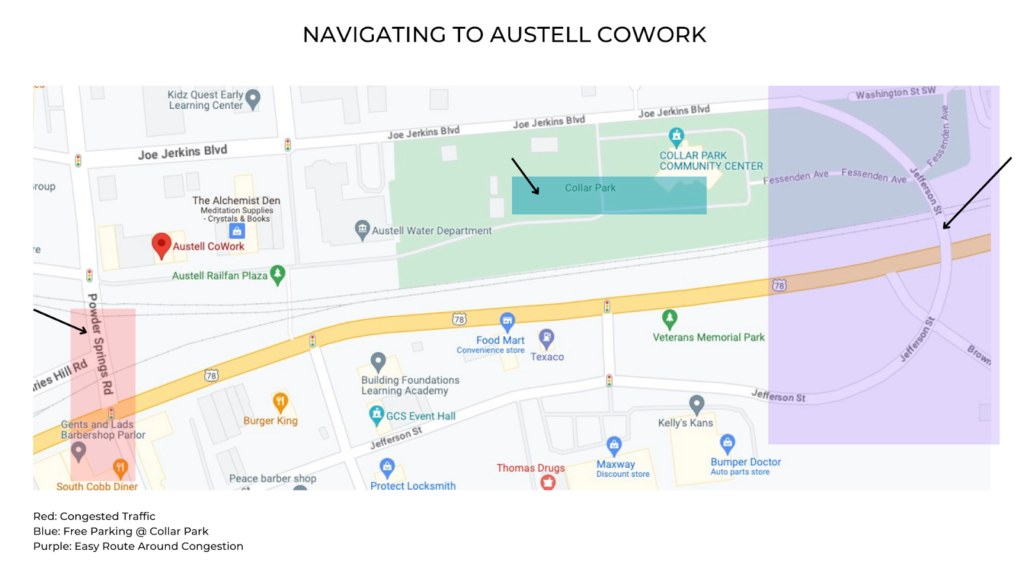 🗝️ Accessing the Space
Please follow the steps below to set up your new access control:
Step 1: Download Unifi Verify
Step 2: Download Unifi Identity
Step 3: Check Your Email
Please keep an eye on your inbox (and possibly your spam/junk folder) for an invite from either Unifi/Ubiquiti or Austell Cowork. This email will contain an invite link that you'll need to finalize the setup process.
Once you've completed these steps, you'll be able to access our facilities using the new system. We appreciate your attention to this matter and thank you for your cooperation.
Step 4: Open the Door!
As you can see below, the doors tab within the Identity app is easy to locate – right on the main screen. From here, tap the "Doors" button and select the door you need. You'll have 3 doors in your account – the Cowork door and the two doors to the two-story building for phone booth and lounge access.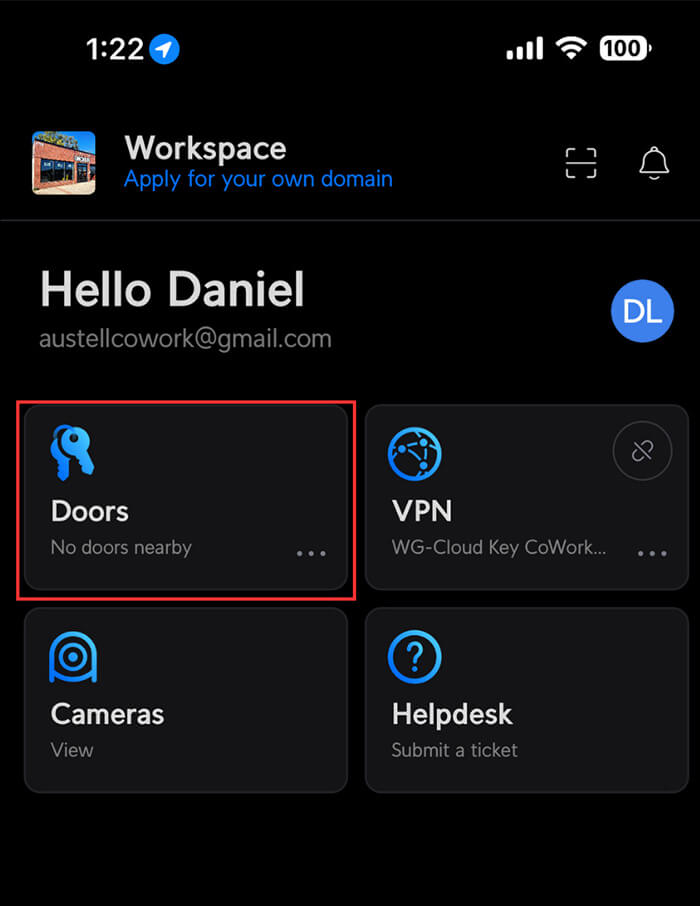 If you encounter any issues or have questions during the setup process, please don't hesitate to contact me at 404-931-1320 by text — If you are unable to access the space at any point due to tech issues, we have added emergency fobs in the lock box located on the outer wall adjacent to the brewery. Text me for the code.
Troubleshooting Tips

Workspace URL
The login url inside the IDENTITY app is:
https://ui-1866952701.ui.com/
You'll need to paste this directly into the IDENTITY app address bar:
ui-1866952701
VERIFY APP
Once you're set up, you won't need to open the 2fa app VERIFY unless prompted by the system or the app 😉
Keycards, FOBs, Artifacts, Lucky Rabbit's Feet
As a reminder, unless you've been instructed otherwise by management, your PHONE is required for entry. This all happens on the IDENTITY app.
📫 Mail
If you are interested in a suite address, a limited number of mailboxes are available at $50/month.
You may not use our general business address to receive mail.
You can add a mailbox to your membership here.
🛜 WIFI & Printing Access
Our network name is Austell Cowork and the password is cowork2760.
The printer name is Epson WorkForce WF-7720. If you need drivers to set up your laptop with our printer, you can find them here.

Printing is a privilege, not a "bottomless mimosa" – and ink/toner aren't exactly cheap. Please be mindful that Cowork's printers are for incidentals, not large print jobs.
This falls back into our be respectful rule.
🛟 Reserve the phone booth or meeting area
There is a phone booth on the Upper Level and meeting areas inside the Main Building These meeting spaces must be reserved in order to use (no drop-ins) as people rely on getting them at specific times. Booking a room is always fast and free at austellcowork.com/reserve – it takes just 20 seconds.
🗄 Membership Dues Portal
🚫 Member & Facility Rules
🦉 Access Hours & 🔒 Security
You will be able to access Cowork anytime you like using your physical key.
You may bring one guest per visit with you.

The space is constantly monitored via our cloud-based security cameras,
and the front door is to remain locked at all times.
You are not at liberty to open the doors to non-members or the general public.
Known staff, uniformed delivery drivers (with U.S. mail or packages), City of Austell employees on-duty and first responders are the exception to the rule. If a staff member is present, they can answer the door.

If you don't see a staff member, contact our team before considering opening a door
(our Community Manager via Slack or via 404.931.1320 during normal business hours).
🔒 Access Issues & Lost Passwords

If you forget your smartphone during business hours, you may use the lockbox outside for incidentals. Use the help channel or contact (470) 206-9239 via text message only for other issues.

Outside of business hours, your access is your responsibility.
🔎 Navigating The Space at Cowork
The space is open but divided into a few primary areas. We've been very thoughtful about sound and volume levels throughout the space:

The front lounge areas and the meeting areas are meant for community. We want folks to be able to have in-person conversations. Small in-person meetings and chatting are totally fine.
The desk gallery areas where people are actively working are intended for focus.
Phone calls and zooms are meant to be taken with consideration of other members.
While you're free to Zoom into meetings from your desk, be mindful of your volume. If you are taking a Zoom call from your desk, you need to have headphones on – nobody wants to know what Todd from HR had for breakfast this morning. If you've only got a call or two, we recommend using our phone booth!
🛟 Reserve the phone booth or meeting area
To use our phone booth in the Cincinnati Junction building or one of the meeting areas inside Cowork are for members. The general public may not book spaces. These meeting spaces be reserved in order to use (no drop-ins) as people rely on getting them at specific times. You may book up to two hours per day in the phone booth or main conference area. Booking a room is always fast and free at austellcowork.com/reserve – it takes just 20 seconds.

Please note: Austell Cowork is no longer available for private events.
🛟 Members & Community @ Cowork
Please join our member Slack group here. This is a place where we share news, networking opportunities, and generally cheer each other on! See you in Slack!
If the link above has expired, please email us at info@austellcowork.com and include your name and best email address so that we can provide you with an updated invitation.

🍦Food @ Cowork
When it comes to food, we get it. You gotta eat!
That said, we do ask that you follow a couple of simple guidelines:
👃🤢Be respectful of your neighbors when you're eating: don't put last week's tuna sandwich in the microwave, and make sure you leave the space the way you found it: don't leave out any food, and clean up after yourself (nobody wants to call pest control).
👍 Be respectful of the real estate you occupy: meals should be eaten in the break area — not at a desk in the quiet zone. The community fridge is for your lunch and a couple of snacks. It's not a place for you to do old takeout/science experiments or to keep 3 month's worth of food 😉
🗑 Always use the labeled composting, recycling and trash bins located by the sink near the restrooms. Don't leave food waste or trash in the small desk-side trash cans. Put your waste in its space as labeled.
🎧 Music @ Cowork
Don't mess with the music. If there's an issue, let our team know. If you're working alone in the building or plan to, speak to our team about the sound system, but do not tinker with the system.
Don't listen to music without headphones. If you're trying to jam out to Reba's Greatest Hits or whatever it is the cool kids like, jam out with your headphones on 🎧or go for a ride!
Just don't make your playlist become OUR playlist, k?
📽️ Projector Use
Don't mess with the projectors. If there's an issue, let our team know. Do not tinker with the system. If you are giving a presentation, information will be provided to you prior to your presentation.
❄️ Climate Control @ Cowork
Some like it hot, some don't. We do our best to set the climate control to a comfortable temperature. We recommend keeping a hoodie or blanket around if you're the type of person who's always cold.
If there's an issue with climate control, please reach out to our team.
🛠️ Facilities Upkeep & Customer Service
Since our space is 24/7, we will not have staff on-site at all hours. We will, however, be constantly monitoring the space and will have our team physically checking in on it every day. If something needs our attention, please contact the community manager on Slack.